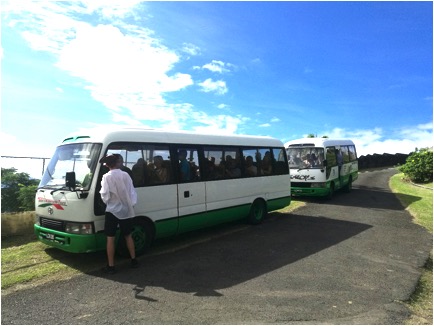 Traci H
We highly recommend Sailor's Tours.
From questions via email at home to door to door service on St Vincent, the customer service was beyond expectations!
Sailor is a very professional owner and has hired extraordinary staff. They were prompt, on time, and accommodating. We took 3 tours with them.
As we arrived late on LIAT and Jet Blue, we needed to postpone our hike up volcano for a few days later. Desmond was our fearless leader for this adventure. He was careful to watch for us and guide us up and down safely and was as happy as we were that the clouds lifted as we reached the top of the crater and we had the most spectacular view of the crater and sea beyond! It is forever imprinted in my mind! Desmond told us berries and flowers that were edible so we snacked on the way!
We learned lots of the local culture from him which in itself made the tour memorable. We got lots for our money, the tours are reasonably priced and worth it.
Ozzie was our guide for our 2 other tours-Vermont Nature Trail, which was absolutely gorgeous! He told us so much about plants, trees, flowers of the rainforest and is a great birder, hearing and spotting many for us!! We would never have seen all the birds without him.
---

Sailor is a very professional owner and has hired extraordinary staff. They were prompt, on time, and accommodating
---
We left very early in the morning in hopes of seeing the St Vincent Parrot-and we were rewarded! We saw 21 parrots! To hear them and see them fly through the forest with their beautiful yellow, green, blue colors was a treat!
We had lunch in Wallilabou where Pirates of Caribbean was filmed. Good food, nice lady waited on us.
Ozzie and Sailor accompanied us on the ferry over to Bequia another day. Brown boobies followed the boat and were so close we could almost touch them! They put on quite a show of diving and flying! Ozzie took us birding there as well, and to the Old Hegg Turtle Sanctuary which was very special.
We had a wonderful lunch at Port Hole. Try their homemade ginger beer-it is the best! Walked around and bought handmade necklaces made from coconut, such nice people. Liked the ginger candy we found in a store.
Ozzie is not only an amazing tour guide, but also an excellent photographer! He took many photos of us together at places with superb views. That was very kind of him. He knows so many people everywhere and it was clear he was well liked by all. A very friendly guy, we think of him as our friend.
Both Ozzie and Desmond and Sailor went out of their way to be sure we felt welcome and saw and did everything we wanted. They drove to the fish market so we could buy fresh lobster which were absolutely delicious and only $6 USD each!
We felt so welcome on St Vincent. Absolutely LOVED the island and its people-nicest ever. It is safe and welcoming with so much to do. Enjoyed walking around villages. We will return very soon.
Be sure and have Sailors Tours help you enjoy your time on St Vincent!