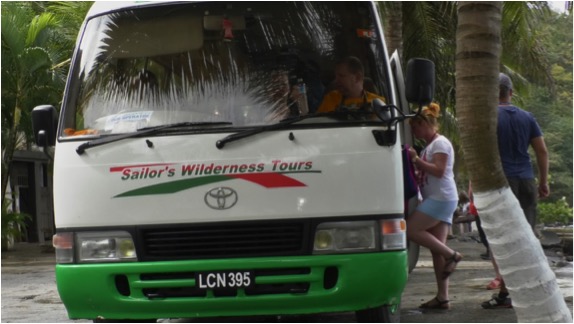 Asha L
A group of 18 of us was visiting St. Vincent and needed round trip transport from the airport to the ferry station. I contacted Sailor Tours as we were hoping to hire a large vehicle instead of several taxis for this service.
From the initial conversation with Shimano to our final departure from St. Vincent, these guys were professional and excellent to deal with. The price offered was a steal – just imagine luggage for 18 people to be transported in addition to 18 persons of varying sizes. We really appreciated their assistance and professional know how.
The drivers were courteous and engaging. We almost missed the ferry to Bequia due to traffic from the airport, but Shimano to the rescue – he called the ferry and asked them to give us 10 minutes as we were almost there. Our driver drove like a skilled bat out of< hell…getting us there with only seconds before the bridge was drawn up. It was the most exciting and successful taxi ride we ever had.
On our return trip there was a hurricane warning and all flights were cancelled. So there we were in the bus with nowhere to go. Shimano again to our rescue, he arranged accommodation for us at a nearby hotel that could adequately take our group size without bussing the bank and he provided transport to the hotel then on to the airport when flights resumed 2 days later. What a Gem he was to us.
I will recommend these guys in a heartbeat because they do Customer Service well!
Great job guys, and keep up the good work.